What Shall We Do Today?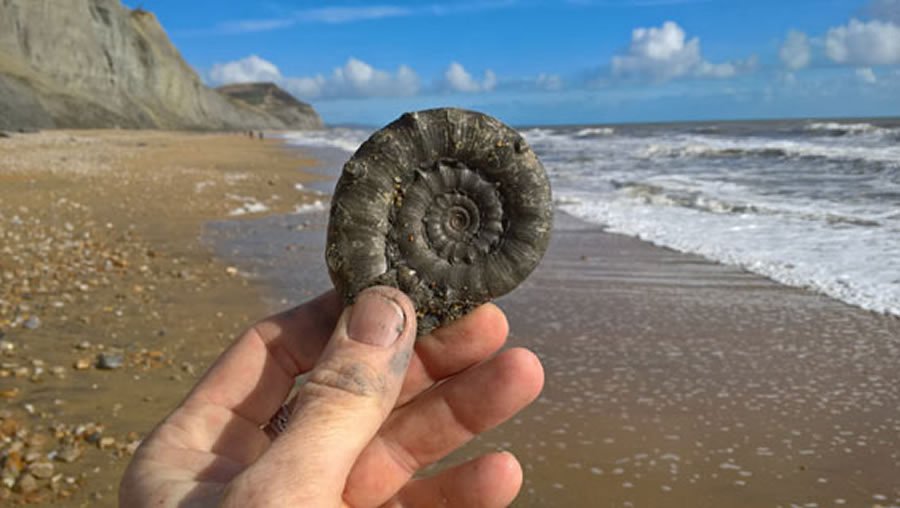 The Bridport area is famed for its natural beauty and wonderful Jurassic coastline, but there are plenty of other attractions to fill your days too. We've picked five for you to try for starters.
Touch something for the first time in almost 200 million years
Local geologist Chris Pamplin BSc is your ideal guide to make the most of the fossil wonders of the Jurassic Coast. Whether you want to introduce your children to the thrill of fossil-hunting, or would like to find out more about palaeontology yourself, you can book an individually-tailored fossil walk from Charmouth lasting about 3 hours, giving you Chris's undivided attention and expert knowledge of how and where to find unique souvenirs of your visit.
The walk starts with an introduction to the geology of the area and some typical specimens, and then you go onto the beach, where Chris will show you some of the tricks of the trade: only some of the rocks on the beach contain fossils, but if you strike lucky, you will be looking at something that no-one else has ever seen before. You can usually expect to find a range of treasures, perhaps including ammonites (even some preserved in "Fool's Gold"), belemnites, sea lilies, wood, and various shells – and if you are really lucky, you might find some ichthyosaur bone!
He also runs larger group walks for adults and older children, which are very popular, so you are advised to book in advance to save disappointment.
Contact and booking details are included on Chris's website: Fossil Walks with Chris Pamplon
---
Messing about on the river
The lower reaches of the River Brit from Palmers' Brewery at Bridport down to the harbour at West Bay are a tranquil setting for a canoeing excursion. Accompanied by an expert leader, you will be escorted in your open canoe for a two-hour trip, during which you will be entertained with fascinating tales of local history. As canoeing is such a peaceful activity, you'll also have ample opportunity to see all the local wildlife – you will probably see many kinds of birds (perhaps the turquoise and gold flash of a kingfisher?), and perhaps be lucky enough to glimpse water voles, otters, dragonflies and other fascinating creatures.
The trips are suitable for everyone from the complete novice to experienced canoeists, as full instruction is given by your very capable and understanding instructor. People remark upon how safe they feel even if they've never been in a canoe before, and how much they learn about river life and history as they paddle along.
Contact and booking details are included on the web site West Bay Canoes (This activity is not suitable for non-swimmers, unaccompanied children and those with restricted mobility. Please see the website for more information …)
---
…Or messing about on the sea?
If you are of a more nautical turn of mind, you can go fishing at West Bay. Hand lining is allowed off parts of the pier and shore fishing is popular along the East Beach, but for more organised angling, you can join a fishing trip or even charter your own boat. Short trips are likely to yield you a mackerel or two for your tea (delicious split, dipped in oatmeal and fried), or longer trips out to some of the many reefs and wrecks in Lyme Bay will give you access to more species and a bigger catch – according to season, you may bring bass, bream, whiting, pollack, dogfish or many others onto the boat.
Signboards along the harbour railings will give you contact details of the various skippers – you will often need to book rather than just turning up, as the tide and weather need to be right for a successful trip.
There are tackle shops where you can hire rods and buy bait or hand lines if you want to DIY, but equipment will generally be provided if you hire a boat, when you'll also get the benefit of the skipper's local knowledge and some tuition if you are a novice.
Contact West Bay Charters for Fishing and Diving Trips from West Bay West Bay Fishing
---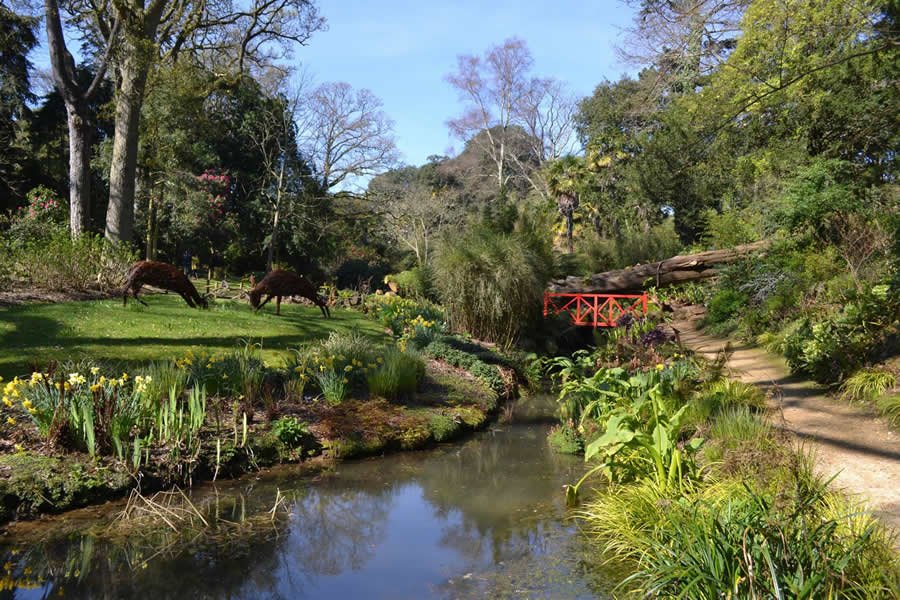 Swans and magnolias
Abbotsbury is home to two really lovely places to visit – the Swannery and the Subtropical Gardens. Make a day of it with lunch – there are cafés at both, or pubs and tea rooms in the village itself. Open from 10-5 every day, both attractions have special provision for access by wheelchairs and baby buggies. You can buy tickets to both that also include admission to the Children's Farm – the earlier you book, the more you save!
The Swannery
The Swannery was established almost 1000 years ago by Benedictine monks who reared the swans for banquets. Nowadays they are safe from gourmets of course, and well-tended by a team of wardens.
It's a unique experience – a flock of over 500 mute swans that you can see feeding daily at noon and 4pm, set on the large lagoon behind the Chesil Bank – an extraordinary shingle ridge that stretches all the way to Portland Bill near Weymouth. The birds are nesting now, but if you delay your visit till May or June, you'll be able to coo over the adorable fluffy grey cygnets! Over the summer they grow fast into ungainly teenagers, learning to fly in the autumn.
The Gardens
The Gardens are set in a sheltered wooded valley leading down to the shore, which has its own special atmosphere. Under the towering trees, you'll find drifts of magnolias, camellias, rhododendrons, hydrangeas, and lots of other choice specimens from the Himalayas and the Orient. The stream that runs through the gardens is bordered by lush planting, and in places, tranquil lily-ponds reflect the huge leaves of Gunnera from Brazil and tropical palms. More formal bedding and lawns can be found near the Colonial Tearoom with its shady veranda for outside dining.
Visitors in October can enjoy the spectacular "Enchanted Gardens", when coloured lights illuminate the trees and shrubs for a magical evening's experience.
Book both the Swannery and Gardens here: Abbotsbury Swannery and Subtropical Gardens
---
Article by Lois Wakeman
Images by Chris Pampllin, West Bay Charters and Jane Elliot
---